E-TEC engine cleaner a new product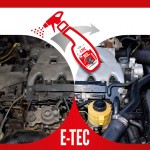 AutoChemie Bitterfeld GmbH presents new product - engine cleaner E-TEC. Unique formula of product ensures excellent cleaning properties. Effective detergent components and active additives penetrate deeply into space between parts and quickly clean engine and all units of the vehicle from old deep pollution, oil spots, technical liquids and road pollution.
Using of the E-TEC engine cleaner ensures:
• PROTECTION AGAINST CORROSION
The product leaves the protective film on the treated surfaces.
• PERFECT CLEANNESS
It cleans the engine and all units of the vehicle effectively even from the deepest and oldest pollutions.
• QUICK RESULT
Easily removable from surfaces and leaves no residue or marks.
Does not damage metal, rubber, plastic and other parts and units in the car engine room.
AutoChemie Bitterfeld GMBH experts recommend regular washing of the engine:
The layer of dust on the engine surface reduces the possibility of heat transfer that can lead to overheating;
Regular engine cleaning prevents corrosion, as well as allows to identify leak of oil and other technical liquids in time.
Clean engine operates quieter.
The wear of all parts is reduced and the service life is increased in general.