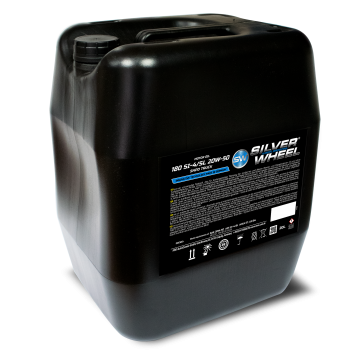 1L plast
4L plast
5L plast
20L
Motor oil 180 SHPD Truck 20W-50
Specifications:
SAE 20W-50, API CI-4/SL, ACEA E7, A3/B4
Benefits:
- ensuring extended oil change intervals (follow the instructions of the car manufacturers to replace the oil with certain types of engines requiring the specified specifications);
- complex protection of the engine against wear, deposits and corrosion in any operating conditions for modern high-loaded diesel engines;
- high stability to the processes of thermal oxidation and aging;
- a high level of safety against mechanical damage even in situations where the boundary grease is reached.
High quality motor oil for commercial vehicles SHPD (Super High Performance Diesel) class, produced in view of modern requirements of high-loaded diggers, turbocharged without turbo-supercharging of European automakers. Compliance with the instructions of car manufacturers provides significantly increased oil change intervals. Thanks to an optimally selected additive package, this oil provides optimum engine protection against oxidation, wear and corrosion in a year-round operation.
Recommendations for use:
- suitable for universal use in mixed fleets of passenger and cargo fleets with engines using these standards and specifications;
- well suited for engines with large. Guarantees a stable lubricating film even at high temperatures;
- Suitable for engines equipped with catalytic converters;
- when choosing the oil, the recommendations of the automaker should be followed
Levels:
JASO DH-1, Global DHD-1, MB 228.3, 229.1, MAN M3275-1, MTU Type-2, Volvo VDS-3, Renault Trucks RLD-2, Mack EO-M plus, Cummins CES 20076/77/78, Allison C4, Deutz DQC III-10, Caterpillar ECF 1a, ECF-2, DDC 93K215